Please scroll down...


Bollywood and
Classical Indian Dance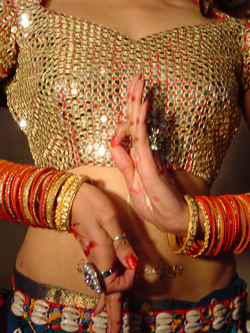 What is Bollywood Dancing?
Bollywood dancing is a commercial name for modern Indian dancing, which originated in Indian musical films. While based on classical Indian dance and folk dancing from all over India (well known "Bhangra") it incorporates western elements such as jazz, hip-hop and sometimes even Latino and Arabic beats and sways. It's fun, upbeat, colorful and very expressive. Because this type of music/dance generally accompanies films, the meaning of both dance and music add to and reflect the meaning of the films, themselves. The meaning of the music is expressed through the graceful movements of the body.
We now offer classical Indian and Bollywood dancers
in many other states! Please inquire!

Sonalee and her Bollywood Dancers
(based in NY/NJ)
Alisha
(based in NYC)
(available solo or with her troupe)
Ana and her Bollywood/Bhangra Dancers
(based in NYC)
back to main dancers page


Need a website for your business? Call Adrienne (212) 353 3886