GAME SHOWS
We'll turn the guest of honor's life, your company history or the party guests themselves
into a totally personalized game show
The Quiz Master Trivia Guy
General and Personalized Questions
Walkaround or on Stage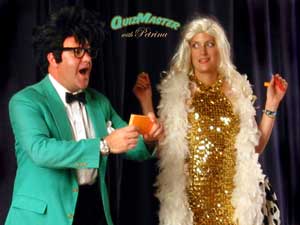 Bubby's Bingo
Hilarious Yiddish-based Bingo, perfect for fund-raisers,
synagogue "nights," special events, singles events
"This Is Your Life" Meets "You Don't Know Jack"
Totally personalized quiz show using information you provide.
Great for landmark birthdays and anniversaries,
bar/bat mitzvahs, corporate parties, sales meetings, more
The Weakest Link
Featuring our Anne Robinson impersonator and
using your personalized information.
Another great idea for landmark birthdays and anniversaries,
corporate parties, sales meetings, etc.
Austin Powers
Featuring our Austin Powers impersonator
who is simply shagadelic, baby!
He's the perfect game show host/MC for special events,
corporate parties, sales meetings, etc.
Wacky Host
Featuring our fabulous all around
MC and TV Host

Treasure and Scavenger Hunts
Indoor or out. Ideal for corporate meetings/weekends,
even bar/bat mitzvahs.
We'll make up a the list for hunts that can happen
within a room or about town (with limos, if you like!)


Entertainment geared to make
this special day both fun and
memorable. They'll be talking
about it for years!


Bring down the house with a great DJ for your next event!