R J
Incredible comic/magician/ventriloquist and much more!
Based in NJ, RJ is also available for performances in: New York, Delaware, Philadelphia and Eastern Pennsylvania and travels anywhere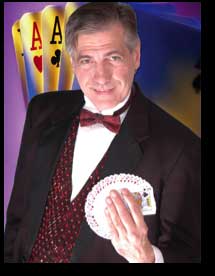 Unique Variety Entertainer

A totally versatile performer combining dazzling costumes, unique variety skills, and a winning personality. R.J. has credentials that include Atlantic City Casinos, the White House and even the Broadway Company of the hit musical "BARNUM." RJ has an excellent reputation and is now available on a limited basis for private events.
Not just another Magician, but a unique Variety Artist whose skills (Magic, Juggling, Stilt-dancing, Fire-eating, Ventriloquism, and others) will become an interactive part of your event.

R.J. uses these skills not just to entertain your guests, but to involve them. It is his belief that you must work with the party, not overpower it. Therefore R.J. offers continuous entertainment, but does not force his presence on anyone. He effortlessly works with the music and the caterer to weave an evening of ongoing entertainment while allowing your affair to be unencumbered.

His supply of over 400 custom costumes is used to create various characters and he combines them with his skills to make your party an extraordinary experience. Almost any theme, time-period, or concept can be created or achieved.


Need a website for your business? Call Adrienne (212) 353 3886