Please scroll down...


back to Psychics and Magicians page
Psychic Madam Klotz
This performer is based in West Bloomfield, MI.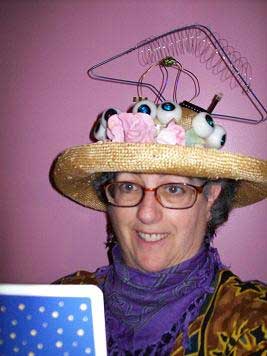 Madam Klotz channels the spirit world with help from her special hat, complete with "all seeing eyeballs," a telephone with a hotline to the "other side" and antenna for tuning in to the world beyond!
Madam Klotz's Psychic Tarot readings are a humorous and entertaining additional to any party. . Appropriate for all ages, her readings are always positive and upbeat. No "Gloom and Doom" from Madam Klotz!
She uses a variety of styles of Tarot Cards. In addition to the traditional deck, there are Gummy Bear Tarot cards for the younger set---a big hit at Bar/Bat Mitzvahs! There are also The Housewives Tarot Cards---a lot of fun at bachelorette parties! There are even giant Tarot Cards for roving around parties giving 1 card spontaneous readings to the guests and many more surprises!
back to Psychics and Magicians page


Need a website for your business? Call Adrienne (212) 353 3886