back to Psychics and Magicians page
Psychic Joan
This performer is based in southern CT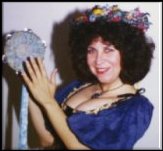 Please note: We book Joan ONLY for parties and special events.
She does NOT book private readings through our agency. Please do not ask!
Joan is an extremely talented and powerful psychic. She is featured in the book: The 100 Top Psychics in America and Psychic New York. She reads cards, palms, crystals, does numerology and spirit contact. Unlike other pychics who rely on the symbolism of the Tarot cards, Joan is a gifted clairvoyant and draws on her own psychic powers to give accurate and in depth counseling by reading from only a half a deck of playing cards. She provides guidance on personal and business issues.
Joan is also a medium and can successfully contact loved ones who've passed on, creating closure by delivering messages from the other side. Joan has previously contacted Elvis for Cable TV Guide Total TV, and Harry Houdini for Newsday.
Among the organizations Joan has read for are Bette Midler's NYC Parks' Restoration Fund, Sony Music, Americare's event hosted by George and Barbara Bush, Liz Claiborne, Estée Lauder, Yale University, FOX Television, Showtime, Pepsi Co., American Express, and the New York Times. She has donated her time to help raise money for the American Cancer Society, the Cornell Burn Unit, and Friends of Children with AIDS.
Joan has been invited to carnivals, elegant evening affairs, Moroccan nights, picnics and costume balls. She can dress to suit the theme of your event and create a colorful and appropriate setting for her reading table.
We predict your next party will be a success by inviting this gifted clairvoyant!
back to Psychics and Magicians page


Need a website for your business? Call Adrienne (212) 353 3886