Marilyn Monroe 2
This performer is based in NYC, but travels anywhere
video available...please inquire
Erica is known as one of the top Marilyn Monroe impersonators in the world. Known for her uncanny resemblance to the real Marilyn, her breathy voice and show-stopping performances, she has performed for celebrities such as Sir Paul McCartney, Donna Karan, Roberta Flack, and Senator Andrew McDonald. She has made appearances for such high-end companies as Van Cleef and Arpels, Erno Laszlo, Saudi Petroleum, Empire Casino, Apple Tours and New York's 2010 Summer Concert Series. A regular performer for Empire Casino, Smash Entertainment, A Gala Event, and with "NY Rat Pack" (B.B. Kings, Feinstein's), Erica was honored to be selected to headline in Cairo, Egypt for their 2011 New Year's celebration. She has portrayed Marilyn in two feature films, "The Three Chris's," (2009) and "Before The Dust Settles" (2011). She starred as Marilyn in the off-Broadway play
From Here It's To The Top.

Her performances are tailored to each individual event, whether a simple Mix and Mingle, Walk-a-round, Birthday Party (live singing "Happy Birthday Mr. President"), Corporate Event, Stage Show, Trade Show or any event that needs the added touch of class, sexiness and fun that Marilyn Monroe brings.

She puts on an unforgettable live, interactive show that will have the audience wondering if the real Marilyn Monroe has travelled through time to pay them a visit. Complete with live singing (no lip-syncing!) in Marilyn's signature breathy voice, dancing and costume changes, Erika puts on a show your guests will be talking about for years to come.

She currently offers a musical set of up to 45 minutes of Marilyn's best loved songs. She can perform with a live band or cd backing tracks. Sound system available upon request. Songs include Diamonds Are A Girl's Best Friend, I Wanna Be Loved By You, My Heart Belongs To Daddy, Bye Bye Baby, I'm Through With Love, Some Like It Hot, Heat Wave, and many more. She can perform solo or with other tribute artists and frequently performs with the New York Rat Pack (Frank Sinatra, Dean Martin and Sammy Davis Jr.).

Her costumes include: the famous "Seven Year Itch" white halter dress, the pink "Diamonds Are A Girl's Best Friend" dress complete with gorgeous "diamond" jewelry, the sequined, beaded "Happy Birthday" gown, the black and gold "Rachmaninoff" gown from "The Seven Year Itch" and the red sequined show-girl dress as in "Gentlemen Prefer Blondes."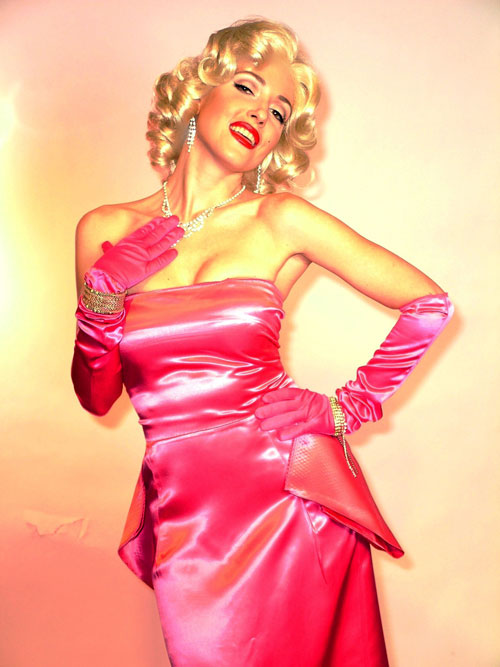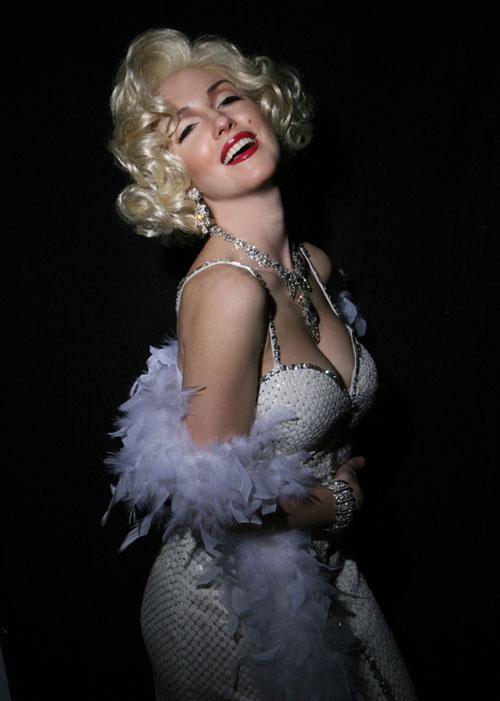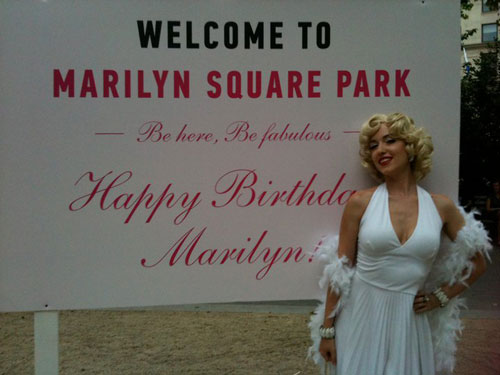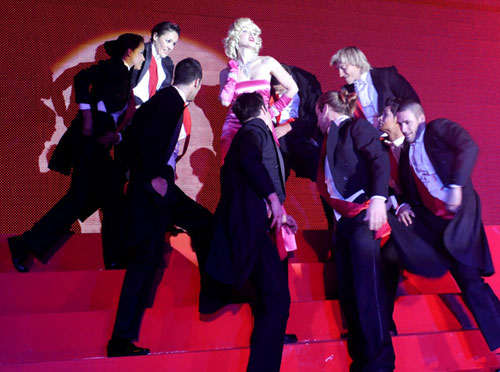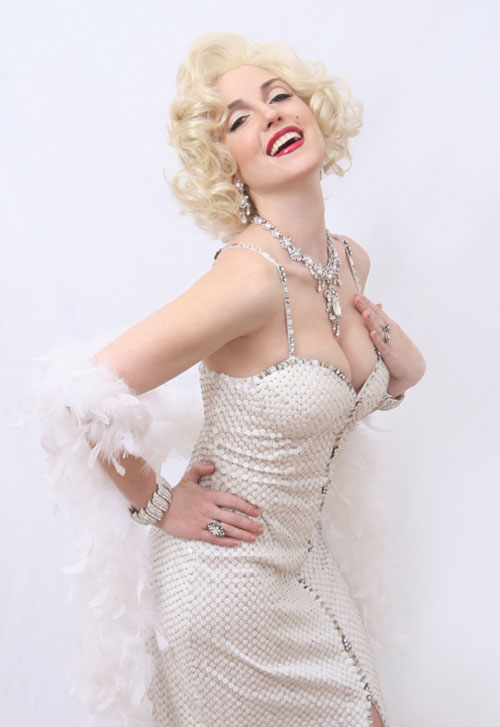 more impersonators (navigable list)