George W. Bush
George W. Bush This look-alike is based in Missouri.
He travels anywhere; client pays all travel and accommodations.
He's one of the country's premier Dubya impersonator, and his price reflects that.
(I.e. he is usually beyond the budget of small parties.)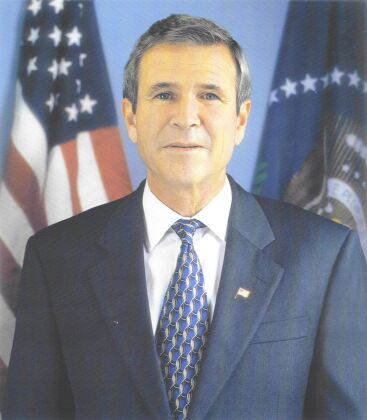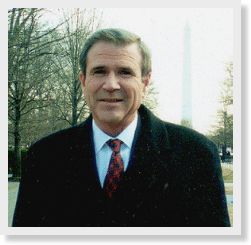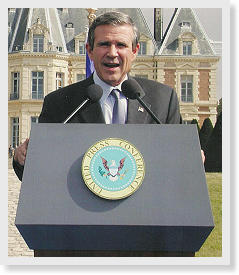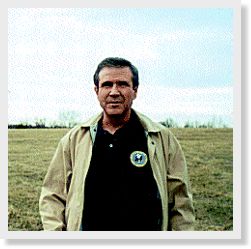 Television:
The George Lopez Show, ABC
The Tonight Show with Jay Leno, NBC
Jon Stewart's Daily Show, Comedy Central
JAG, CBS
X-Files, Fox
Animal Planet, Extreme Disguises
Hollywood Squares
The Weakest Link, NBC
Fox and Friends Morning Show, Fox News
Fox National News Inauguration Coverage
Regis and Kelly Live!
Double Take, BBC II, London, England
Coca-Cola, Japan, TV commercial
The People vs. Jerry Sadowitz Comedy Show, Channel 5 U.K.
Javiar Capitan, Madrid, Spain
Tsuhan Seikatsu Catalog House, Japanese TV commercial
Raymour Flanigan Furniture Chain Commercial, New England
Various local, regional and Web TV appearances and commercials

Movies:
"Life Or Something Like It" with Angelina Jolie and Stockard Channing - 2002

Awards:
The series Double Take on BBC won a BAFTA award, the equivalent of an American Emmy, for innovation.
2002 and 2003 "Best Historical Impersonator" from IGCITA, the leading professional association of look-alikes.

Magazines:
Talk: Fashion shoot as George W. Bush with lookalikes of the twins
Radio:
NPR - San Diego, CA
Voice of America Radio Network
Many More...

Business (Corporate, Political and Private):
American Greetings
American Family Insurance
Beckton Dickinson Pharmaceuticals
BizProLink Network
Blackhawk Enterprises, Houston
Chartered Property and Casualty Underwriters
Cincinnati Insurance Companies
Close-Up Foundation, Washington D.C.
COMDEX Information Technology Show
Commonwealth Edison, Chicago
Cook, Daoud Financial Planners, Hartford, Ct.
Coors Brewing Company
Eyeonics, Anaheim, Ca.
Feist Yellow Page Directories
Florida Venture Capital Forum
Ford Motor Company - Sterling Division
Glaxo, Smith, Kline
Johnson & Johnson
Lincoln Days, St. Louis, suburban Kansas City, Joplin, Mo.
Meridian Automotive Systems, Detroit
Missouri Independent Bankers Association
Mortgage Bankers Association of America
Mykotronx, Long Beach, Ca.
Stratus Corporation (Internet Servers)
Technology Imaging Services, Toronto
Textile Rental Service Association, New Orleans
Toyota Truck Assembly Plant, San Antonio
United Service Companies
Vinyl Lite Windows, Woodbridge, Va.
Vrionis Real Estate, Pebble Beach, Ca.
Many More...

Live In Person:
Iowa Primary, 2000
New Hampshire Primary, 2000
Republican National Convention - Philadelphia
Democratic National Convention - Los Angeles
Yakov Smirnoff Theater - Branson, MO.
Reel Awards - Hollywood, Ca
Los Angeles Athletic Club
IGCITA Convention, Las Vegas
George Washington University - Washington D.C., Inaugural Ball
Missouri Society of Asociation Executives
Creighton University Alumni group, Omaha
Stars In Concert, Berlin, Germany
General and Marine Hospital, Collingwood, Ontario
SEIU Local 99, New York
Capitol Focus, Sacramento, Ca. (with Cruz Bustamante)
DuQuin-Pollitt wedding, Washington DC
Mt. Carmel Medical Center, Pittsburg, Ks.
Empire District Electric PAC
Daybreak Christian Organization, Kansas City, Kansas
Republican Caucus Missouri Legislature, Jefferson City, Mo.
Fundraiser for Congressman Richard Burr, Winston-Salem, NC
Fundraiser with Gov. Jim Geringer, Laramie, WY
America's First Families and US: Bess, Jackie and W. (historical reenactment)
And many more various civic and charitable appearances


more impersonators (navigable list)