back to magicians/psychics page
Dazzling Dennis

this performer is based in the San Francisco area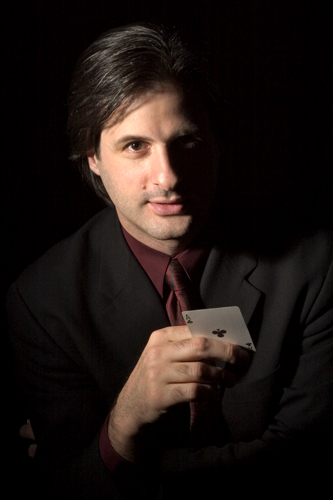 Dennis is a rising star on the New York City magic scene!
Specializing in the most difficult branch of the art -- close-up magic -- he has entertained thousands with his distinctive style of high-impact magical entertainment.
From large corporate events to intimate gatherings at home, wherever Dennis brings his hip, sophisticated and fun magical presentations, audiences are guaranteed a truly amazing experience.
Corporate and charity clients include among others, TIAA-CREF, Perdue, Sun Microsystems, Borders Group, New Line Cinema, Ferragamo USA, Lime Ltd, Lugz, Wilder Balter Partners, The MS Society, Children's Aid Society, and The Leukemia and Lymphoma Society.
THE WALK-AROUND SHOW

High-impact close-up magic for sophisticated audiences!
Moving in and around your event Dennis entertains your guests by spontaneously creating high-impact magical performances. It's the perfect start to a magical evening and never fails to make any event memorable.
THE STAND-UP SHOW
Audience participation, fun, comedy and lots of magic!
A family show designed to be performed in your home, banquet hall, restaurant...just about anywhere! Perfect for events with a guest of honor such as birthdays, communions, anniversaries, or any special event. 45 minutes of magic and fun for ages 7-70!
THE CUSTOM SHOW
Combine both shows to create an unforgettable, magical event!
Intimate miracles of close-up magic while your guests mingle and settle into your event, and a formal stand-up show later in the evening. Guaranteed to create an event your guests will always remember!



Need a website for your business? Call Adrienne (212) 353 3886