Lucky us, we have a fireplace so that makes toasting the 'shmallows easy and fun.
If you don't have a fireplace, you can use sterno or a stove burner.
(Take proper safety precautions. Supervise children and fershikkert guests.
Have a fire extinguisher at the ready. Use CAUTION!
Don't come crying to me if your guests burn down your drapes!)
First, prepare the cookie: Place an unwrapped (duh!) chocolate coin on a graham cracker.
As it waits, in naked anticipation, , toast the ' shmallow to your preference of doneness.
(I like 'em kinda burnt but some prefer a light, golden tan) .
Slide the warm gooey 'shmallow on to the coin, slap another cookie on the top, and
Voila! Hanukkah S'mores!

Make them a tradition in YOUR home!
2-3 large cooking apples ( i.e. Rome, Gala, Winesap, Fuji -- or one of each)
At least a 1/2 lb. of walnuts
Manischewitz extra heavy Malaga wine (the sweeter, the better!)
A drizzle of honey (about 1 TB)
a teaspoon or two of sugar


Chop the apples into a fine dice.
(If you have the type of multiblade chopper used to incorporate
butter into dough, it will make the fine chopping go very quickly.)
Put the chopped apples in a bowl and gradually add enough wine
to cover and absorb into the apples, tossing between splashes of wine.
The exact amount of wine will depend upon how many apples
you've used as well as how much wine flavor you like,
however there shouldn't be so much wine
that it accumulates at the bottom of the bowl.
You want it all be absorbed into the apples.
Next, coarsely chop a large handful of walnuts and add to the bowl.
There should be a nice textural balance between the slightly bitter, crunchy walnuts
and sweet, soft apples. Add more nuts, as needed, a little at a time, until you have
achieved the right balance. The proportions are again a matter of personal
preference so you're just going to have to sample as you go along.
You can add a little more wine if you like, to flavor the walnuts.

Caution: Too much sampling may lead to tipsiness and naked dancing in the kitchen!
When you have achieved the right consistency, drizzle about a tablespoon of honey
on top, and toss, to help it all stick together. You can also add a light sprinkle of granulated sugar (optional).
Keep refrigerated for a day or two, to allow the flavors to blend.
I usually make more than I need for the seder,
so I have plenty to eat on matzo, for breakfast, for the rest of the week.
AUNT LEILA'S Passover Sponge Cake
(she's such a balabusta!)
Ready in 1hr 5mins Serves 8
INGREDIENTS
• 12 fresh eggs, room temp, separated
(they should sink to the bottom in a bowl of water)
• Rind of orange and lemon
• Juice of large orange and large lemon (approx. ½ cup)
• 1 cup matzo meal cake flour
• 1 heaping TB of potato starch
• 1 ½ cups sugar
DIRECTIONS
Sift cake meal and potato starch together and set aside.
Scrape orange and lemon rind into a small dish. Squeeze the juice into a cup.
Separate the eggs
Put egg whites into mixer bowl. Make sure NOTHING but egg whites are in the bowl – no yellow, no shell – otherwise they won't get stiff. Add ½ the sugar (3/4 cup) Beat until stiff, (i.e until they make peaks that hold.) Set aside.
(This process takes a while so I leave the mixer going while I move on to the next step.
And even still, the whites are not "peaked" enough by the time I'm finished)
In another bowl, add remaining sugar to the egg yolks. Add rind and juice and dry ingredients, alternating, into yolks, until it's the consistency of sour cream.
GENTLY fold yellow batter into the egg whites and stir by hand until all the white disappears. You want to keep all that fluffiness in the egg whites so folding, not stirring, is the key.
Pour into ungreased tube pan (or line the bottom with paper) til it's about 1 1/2 " from top.
Bake at 350 for 1 hr
Remove from oven and invert pan to prevent cake from falling.
Serve plain, with powdered sugar, or with Lemon Glaze Icing
Lemon Glaze Icing :
(dairy)
• 1 3/4 cups of confectioners' sugar
• 1/4 cup of lemon juice
• the zest of one lemon (or more!)
• 1 tsp of salted butter
Combine all ingredients in a microwave safe bowl or large glass measuring cup. Nuke on high for 45 seconds.
Remove and whisk to be sure it's nice and smooth (no lumps).
Note: If salted butter not available, consider adding pinch of salt to sweet butter. It adds complexity and cuts the sweetness.
Note: If not lemony enough, add more zest, not more juice.
Let it sit/cool for a few minutes before pouring over cake.
If you want to keep it pareve, you can use Martha Stewart's lemon glaze using just confectioner's sugar and lemon juice:
2 cups confectioners' sugar
3 to 4 tablespoons fresh lemon juice
If you want to get fancy, put some raspberries on the top!
A Ziesen Pesach!

Bubby's Old Fashioned Kreplach
Makes 4-5 dozen
Dough (per batch):
3 large eggs (FRESH! Very important!
Will absolutely affect the lightness of the dough!)
1/2 tsp salt
1 1/2 - 2 cups flour
(depending on how much meat you have, you will probably
have to do anywhere from 3-5 batches of dough, so be
sure to have plenty of FRESH eggs on hand!
Filling:
1/4 - 1/2 lb beef chuck, cubed
2 TB rendered chicken fat* (absolutely essential for authentic taste!! No substitutions! If you're not going to use chicken fat, don't bother!)
2 large yellow onions, diced thin
1 egg
salt and pepper
*Usually available in the frozen kosher food section of your supermarket or from a kosher butcher. Note: Last time I made these, I had a heck of time finding chicken fat anywhere. (Rendered fat usually comes in a small can or jar and is the consistency of cold olive oil -- kind of viscous and creamy) After running around to about 10 stores, I finally found Empire brand UNrendered fat in the Food Emporium. This is the solid fat with skin. It comes in a small plastic bag within a butter-size box. Before use, you will have to render it: basically, throw it in frying pan on a medium heat, until the liquid separates from the solid pieces. Pour off and reserve liquid for frying your meat. (Freeze what's left over) As for the solids, this is gribenes, the kosher equivalent of "fried pork rinds." Sure, they are like little heart attack pellets, but wee doggies, they's gooood! Guhhead...taste just one! Jewish soul food!
Directions:
Make the filling first: Fry the onions and meat in the chicken fat. (The hell with your cholesterol! It's once a year!) Put the meat through a grinder or food processor until almost pastelike (like tuna salad or very moist chopped liver.) Pour into a bowl and add egg, salt and pepper. Blend well and set aside.
Note: if the filling is too wet, which happened to me once, (probably from all the liquid in the onions), put it into a seive and press the mixture against the holes with the back of a spoon or put into into a collander lined with cheesecloth (over a bowl, of course!) It should not be drippy. Again, the consistency of chopped liver.
Make the dough: Beat the eggs with the salt. Mound about a cup and a half of flour on a board or flat surface and create a well in the middle. Slowly add the beaten eggs, a little at a time, using a fork to gently incorporate the flour into the egg, until you have a workable dough. Knead gently for a few minutes until smooth, soft and elastic -- like a newborn's tushy! Be careful not to overknead or your dough will be tough. Stop kneading as soon as the dough holds together.

Roll out on a board until about 1/4" thick. Use a 3" round cookie cutter or small juice glass to cut circles. Holding the circle of dough in one hand, pinch/stretch the edged a bit to thin it out. If you're using beaten egg, brush some around the edges. Place a tiny dollop of meat filling in the center of each. Fold over and seal the edges. (The egg will help hold them together Make sure the edges are well-sealed otherwise they will fall apart in the soup.)
Drop into boiling, heavily salted water (I like to throw a little chicken fat into the water both for flavor and to keep them from sticking together), and remove as soon as they float, into a covered bowl or plastic container.
NOTE: Don't leave the uncooked kreplach sitting out too long or they will dry out. As soon as you've formed about 5-6, drop them in the boiling water. Go back to forming kreplach and by the time you have another 5-6 ready for the pot, the previous batch will be floating and ready to remove.
Refrigerate. You can make these a day or two in advance. On the day of your dinner party, drop them into your boiling chicken soup, giving them just enough time to warm through. (5-10 minutes) Serve 2-3 in each bowl of soup.
Make plenty 'cause they go fast!
Note: If you have extra dough left over at the end, try doing what I do:
Use cookie cutters to make "pasta" shapes for the kids' soup.
NOTE: Hooray for me! Today (9/28/08)
I finally came out exactly even on the dough and filling!
First time ever!!! I started with .83 of a lb of chuck and
made (I think) 5 batches of dough.
Watch video tutorial below:

Bubby's Blintzes
(video tutorial coming next time I make them!)
(approx 6-8)
¼ lb of farmer cheese
¼ lb of country style* cottage cheese
(*dry-ish, large curds. I like Cabots.)
1 small egg
(or beat 1 large egg and use half of it. Use the rest
in the crepe batter. 2 ½ eggs in there will be fine.)
¼ cup or so of sugar (more or less to taste)
1 TB lemon juice
Drop of vanilla
Dash of cinnamon
1 cup flour
1 cup water
2 eggs
(or 2 1/2, if using the extra from above)
Vegetable oil for frying
Powdered sugar, applesauce, sour cream,
fresh fruit or jam, as topping
------
In a small mixing bowl, make the filling. Set aside.
In another small mixing bowl, make smooth batter of crepe ingredients, taking care to break up any lumps of flour. Heat and lightly grease an omelet pan (a 10" is perfect.) Using a serving spoon, pour in a few spoonfuls of batter into the bottom of the pan, and quickly swirl it around, so you have a very thin layer coating the bottom. Let it sit, undisturbed for a couple of minutes, until you notice some bubbling on the top. (Use a spatula to lift the edge. If it holds together, it's done.) Fry ONLY ONE SIDE! (Don't let it get too brown, because you'll be cooking them again!) Slide the crepe onto a plate – uncooked side up -- and start making a new one.
While your second crepe is cooking, place a large dollop of filling (couple tablespoons) onto the edge of the first one, and roll up, like a jelly roll. Set aside on another plate. By now, your second crepe should be ready to come off the heat. Repeat this process until you have used up all the ingredients. (You may not come out even, but I'd rather throw away crepe batter than filling.)
When all your blintzes are all made/rolled, stoke up your pan again – greasing lightly oil (perhaps a bit of butter if so inclined) – and lightly fry them on both sides, until just golden brown.
Serve 2-3 per person. Sift on some powdered sugar
or use other topping of choice.

Aunt Lila's Noodle Pudding (dairy)
aka "Death by Kugel"
aka "Kryptonite for the Lactose Intolerant"
(never mind that your cholesterol goes up 50 pts just reading the ingredients!
You've gotta die somehow...might as well be like this! At least you'll die happy!)
1 lb broad egg noodles, cooked al dente
7 eggs
1 ½ tsp vanilla
1 cup sugar
3 cups milk
1 lb cottage cheese
1 pint sour cream
¼ lb melted butter
for topping:
Corn flake crumbs
Cinnamon
Sugar
Combine all ingredients (except cornflakes) and put into large casserole dish/lasagna pan.
Top with crushed corn flake crumbs, cinnamon and sugar.
Bake 45 min at 350. Let sit for one day to set. (It will be loose)

ADRIENNE'S ORIGINAL PUMPKIN RAISIN BREAD
Makes 2 loaves [9 x 5 x 3], 5-8 servings each
(unless you're a pig like me who can eat an entire loaf in one sitting!)
BREAD:
2/3 cup butter (or other shortening), softened
1 1/3 cup sugar
1 1/3 cup brown sugar
4 eggs
1 cup heavy, sweet red dessert wine, sherry, port, plum wine or apple juice/cider/Jack
(This is a great way to use up all that extra Manischewitz!)
1 (one) 16 oz. can pumpkin
1 2/3 cup white flour
1 2/3 cup whole wheat flour
2 tsp. baking soda
1 ½ tsp. salt
½ tsp. baking powder
4 tsp. cinnamon
1 ½ tsp. ground cloves
1/8 tsp. ground ginger
2 tsp. allspice
2 tsp. nutmeg
½ tsp. cardamom (optional)
2/3 cup chopped walnuts (plain or honey-roasted)
1 cup raisins
[Optional: Let the raisins soak overnight in the wine. Note: the alcohol will evaporate during baking.]
TOPPING: 2 tbls. butter; 2 tbls. flour; 2 tbls. brown sugar; 2 tbls. crushed walnuts

Heat oven to 350F. Grease bottoms only of two loaf pans (9x5x3 or 3 pans 8 ½ x 4 ½ x 2 ½)
Mix shortening and brown and white sugar in a large bowl.
Beat in eggs.
Spoon in pumpkin. Mix.
Add wine or juice/cider/Apple Jack.
Gradually blend in dry ingredients.
Stir in raisins and nuts.
Pour into baking pans.
Prepare topping by crumbling all ingredients
together with your fingers and sprinkling across the top
of loaves. (More topping may be added if desired by
combining equal parts of all ingredients.)
Bake until knife comes out clean, approximately forty-
five minutes to one hour. (Start checking after half an
hour)
Leave loaves in pans and cover with foil to retain freshness
(though in my house they rarely last long enough to get stale!)

ADRIENNE'S ORIENTAL SALAD DRESSING
3 TB rice wine vinegar
1 tsp. balsamic vinegar
1 tsp. sesame oil
1 tsp walnut oil
2 TB olive oil
1 tsp thick soy
1 heaping TB OJ concentrate
1 tsp sugar
1 tsp honey
1" piece of peeled fresh ginger

Blend all ingredients except ginger. Add whole piece of ginger to bottle of dressing
and leave it there to marinate.
(I usually double or triple the recipe since it lasts for a really long time in the fridge.
Best on mesclun salad or red leaf lettuce. )


Adrienne's Banana Bread
8 TB sweet butter
¾ cup granulated sugar
2 eggs
3 large ripe bananas, mashed
½ cup shelled walnuts, crushed (optional)
handful of raisins (optional)
¼ cup orange juice concentrate
1 TB fresh orange peel
1 tsp vanilla
1 cup white flour
1 cup whole wheat flour
1 tsp baking soda
½ tsp salt
Preheat oven to 350F. Grease 9 x 5 x 3 pan
Cream butter and sugar until light a fluffy.
Add eggs, one at a time, beating well after each addition.
Sift together white flour, baking soda and salt.
Stir in whole wheat flour and add to creamed mixture, mixing well.
Add orange juice and peel.
Fold in mashed bananas, vanilla and walnuts.
Pour mixture into prepared pan.
(Optional: mix together two TB of butter, white flour and
brown sugar and sprinkle on the top for a "struessel" topping)
Bake for 50-60 minutes or til knife comes out clean.
Cool in pan for 10 minutes before eating.

Buffalo Cake
(No, it's not made from buffalos. Probably originally came from Buffalo, NY
The first my family heard of it was in the Catskills in the 60s )
1/2 lb. butter (or margerine, if you must)
2 eggs
1 tsp Vanilla
1 cup sugar
1 cup sour cream
2 cups flour
1 tsp baking powder
1 tsp baking soda
1/2 pkgs. chocolate chips, melted (more if you're doing 2 layers of chocolate)
(just nuke 'em in a bowl for 2 minutes)
1/2 cup chopped nuts (optional)
1/2 cup brown sugar.

Sift together the flour, baking powder and baking soda
Cream butter & sugar. Add eggs one at a time.
Add vanilla and alternately add flour mixture & sour cream.
(It will be a thick batter)

Butter the bottom only of a spring form pan
or a couple of loaf pans, and dust with flour.
Put in about 1/3 of the batter and add the melted chocolate
and swirl it around trying to cover most of the surface.
Sprinkle brown sugar (and nuts if used) over this.
Then add the balance of the batter and top off
with the remainder of brown sugar (and nuts).
NOTE: The original recipe calls for one layer of chocolate, I usually do two layers. This means thinner layers of cake between, which is harder to spread around the pan. Use the back of a spoon or even your finger to move the cake batter into all edges. And don't stress if you miss a few spots. It'll all come together in the oven.

Bake in preheated oven for @ 350 for 45 min.
Test with toothpick or clean knife.

Adrienne's Famous Everything Cookies
2 1/4 cups white whole wheat flour
1 teaspoon baking soda
1 teaspoon salt
1 cup (2 sticks) butter, softened
1/2 cup granulated sugar
1 cup packed brown sugar
1 teaspoon real vanilla extract
2 large eggs
1 cup (approximately) chocolate chips or chopped dark chocolate (i.e. a flavored chocolate bar) and/or white chocolate chips &/or any other flavored chips (butterscotch, peanut butter.) I often have all these in my baking cupboard so I like to add a little of everything.
1 cup (approximately) different kinds of nuts (i.e. pistachios, candied walnuts or pecans, chopped walnuts or almonds – whatever you like. I particularly like to add the candied ones into the mix. Trader Joe offers pumpkin spice pumpkin seeds in the fall. When I have them, I throw in a handful of those, too. They do go rancid fairly quickly so if you buy them and want to use them in the future, I suggest freezing them.)
½ cup assorted dried cherries, berries, raisins, cranberries, etc.
2 smashed Trader Joe chocolate coated, nut-covered toffee bars, which come in a plastic tub (or a Heath Bar or any kind of hard toffee) Put them in a baggie, wrap with a tea towel, and smash with a hammer until in small pieces.
Sometimes, if I have tiny M&Ms, I'll add those, too. Or you can smash regular size ones. You could also use the tiny baking peanut butter cups.
Note: the add-in amounts are just estimated. Obviously, the more variety, the less of each item you will add in. Do a bit at a time. Mix it around. Easier to add more as needed than to remove if too much.

Caviar - Egg Salad
10-12 hardboiled eggs (see recipe below)

small red onion, chopped fine

approx 1 cup of sour cream (my choice), softened cream cheese or whipped soft cheese (such as Boursin)

10-12 oz of Masago (or Tobiko) caviar (usually available at Japanese grocery stores)
Dollop of mayo
Crackers of your choice or bagels
Make a finely chopped egg salad, using just enough mayo to hold it together.
On serving plate, spead a thin layer of the chopped onion.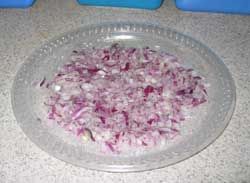 Mound the egg salad on top of this, shaping it into a low dome, no more than a couple of inches high in the middle. (Note: piling the egg too high will throw off the proportion of caviar-to-egg in each bite.)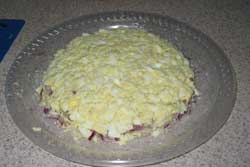 Carefully coat the mound of egg with the sour cream or softened cheese, using an icing spatula if you have one. (If using cheese, it must be VERY soft, which is why I find sour cream easiest)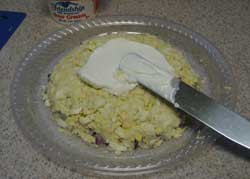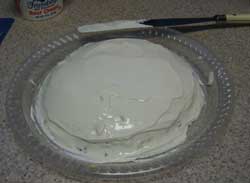 Carefully apply caviar to the sour cream/cheese layer and press it in evenly all around, so that none of the white cream/cheese shows thru.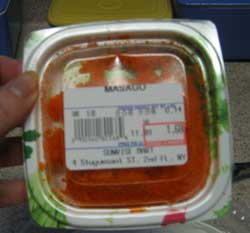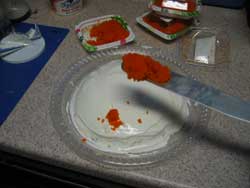 The result is a beautiful, sparkling orange dome! For a pretty dab of color, top with a sprig of parsley or basil leaf.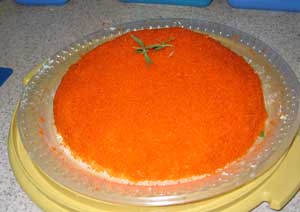 Serve with crackers (also great on bagels!)

Perfect Hardboiled Eggs - Every Time
Place eggs in a saucepan and fill with enough
cold tapwater to cover all the eggs completely.

(note: If the eggs float, they are too old and should be discarded; fresh eggs will lie on their
sides at the bottom of the pan. Slightly older eggs will stand on their ends and bob a little.)

Add about a 1/4 tsp salt.
Put the pan on the stove and turn to a medium-high heat,
allowing the eggs to heat up (and boil) at the same rate as the water.

Once the water is boiling, turn a timer on to 8-10 minutes.

When the timer goes off, turn off the heat but leave the eggs in the water,
on the stove, to cool (even overnight is fine)
The point is the eggs and water should come
to a boil together and cool down at the same rate.
Peel when cool.
Note: Eggs which are at least a week old are easier to peel than fresh ones.

Brie in Puff Pastry
Another really easy but impressive looking party food...
consumed at parties in about 30 seconds!
1 one lb. wheel of brie
1 sheet of puff pastry (usually available in the frozen foods section)
Apricot preserves or mango chutney or pesto
Nuts (optional)
1 beaten egg for egg wash
Preheat oven to 350F
Follow package directions for defrosting puff pastry.
Lay out one sheet of pastry on cookie sheet
Spread preserves, chutney or pesto on the top of the cheese wheel.
Sprinkle nuts on top if you like.
(Pecans, pistachios or pine nuts are good choices)
Flip cheese over onto pastry sheet.
Shmear some jam/pesto on the sides and bottom of the cheese
and fold up the corners of the pastry so they meet in the middle.
Cut off excess and reserve.
Seal flaps on the bottom of the cheese and turn right side up.

If you want to make things a little more fancy,
use the excess pastry you cut off the bottom to form leaf shapes*
and create a wreath around the outside of the wheel.
Or roll and braid it and use as decoration.
Or roll it out and make shapes with cookie cutters and place on top
(good for themed or seasonal parties!)
*just cut with scissors and use knife to draw leaf veins
Give the whole thing an egg wash and
bake at 350F for about 20 minutes, or until the top is golden brown.
*****

Most packages of puff pastry come two in a pack. You can use other sheet to make another party favorite:
Cheese Straws
Pastry sheets usually come folded in thirds. Unfold completely, then fold in half. Cut narrow strips (1/4"- 1/2" wide). Hold one end and twist the other, and lay them out on a cookie sheet. Sprinkle with freshly grated Parmagiano, paprika and a very light dusting of ground chipotle powder. Follow baking directions for brie, above.

Note: Keep the kids and hubby out of the kitchen when you pull these
out of the oven otherwise there won't be any left for the party!!!

Healthy, Relatively Fat Free cookies
I made another batch of my healthy cookies today and I gotsta say,
for an all natural, healthy snack, they're purdy darn good:

5 minute prep time.
(Preheat oven to 350)

2-3 very soft bananas (just on the verge of being too far gone)
1/2 - one cup of instant oat meal (enough that it holds together with the banana)
(this is the basic recipe. Now, add whatever else you might have/like
from the list below. It's a very forgiving recipe and hard to mess up.
In the past, I have used:

Shredded coconut (I used sweetened but you could use plain)
half cup unsweetened natural applesauce (which will necessitate more oatmeal but will also allow you to use more add-ins)
crushed walnuts, pistachios,almonds ...any nuts you like... even candied ones, crushed into small pieces
pumpkin seeds (I love the Trader Joe pumpkin spice ones which I stock up on in the fall)
chopped fresh cherries when in season
fresh blueberries
chocolate or carob chips (I don't use, but you could)
raisins or any dried fruit (in small pieces)
chopped dates
chopped candied ginger
cinnamon
ground cardamon
various seeds (chia, flax, sesame)
I've used even leftover charosis and it was great.


Smoosh around with a fork until it's all mixed up.
Put cookie-sized dollops on a cookie sheet (I smash mine down so they are flat.)
Bake for 15 minutes. I let them cool in the oven.
I also store them in the fridge because they will get funky if left out for a few days.