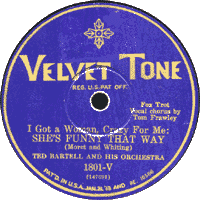 If you love old blues, jazz, early recordings,
here are some great sites!
All feature free downloads of
music (usually MP3s) recorded off
vintage Edison cylinders or 78's.
Much of it is rare, not available elsewhere.
More as I find them!


click for Geeshie Wiley's "Last Kind Word Blues"
http://www.archive.org/audio/audiolisting-browse.php?cat=366
Many old 78 recordings including Louis Armstrong and Cab Calloway
Cylinder Preservation and Digitization Project/UCSB
A HUGE collection of music taken from old Edison cylinders,
converted to MP3s, available free from U Cal, Santa Barbara
http://www.raeproductions.com
Lots of great recordings in a jukebox format
http://memory.loc.gov/ammem/lohtml/lohome.html
Archive of ethnomusicologists John & Ruby Lomax's early recordings
http://www.lexpages.com/weirdrecords/weirdrecords.html
spoken word, humor as well as music
http://www.redhotjazz.com - bands
http://www.redhotjazz.com - musicians
AMAZING! resource of historical info with hundreds of vintage recordings,
sorted by orchestra and musician (i.e. Jelly Roll Morton, Ma Rainey, Django Reinjardt, etc.)

http://www.honkingduck.com
Great old stuff from 78's - lots of folky, blue-grassy, Roots kind of music
(If you liked the soundtrack from "Oh, Brother, Where Art Thou"" this site is for you!)
http://dismuke.org/
Listed as collections, playable with one click. Big Band stuff from the 20's and 30's,
and another section of music from 1900-1925. Lots of interesting info and great labels.
http://www.jazz-on-line.com/
Listen to .ram files or pay a nominal fee to download unlimited mp3s
A huge collection of the Jazz greats!
Please let me know if you find more! I'd love to check them out and add them to this page!