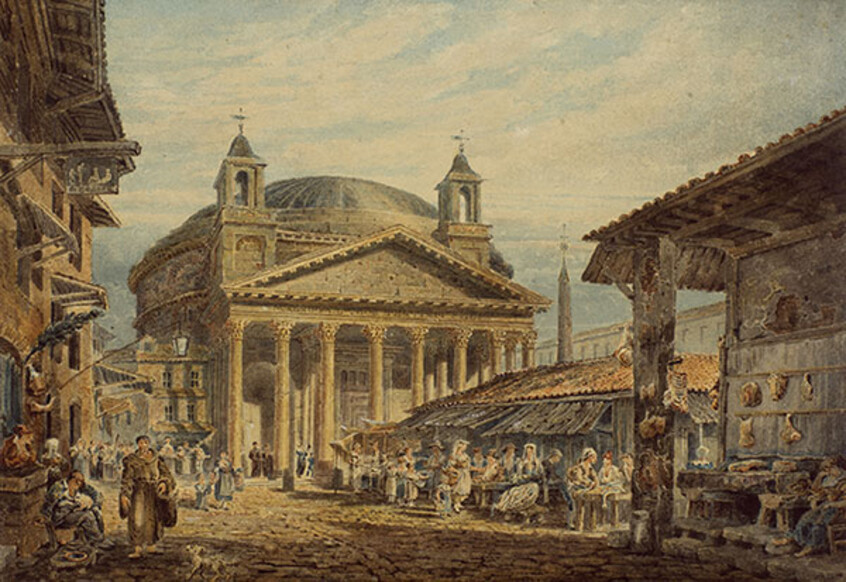 George Cooper, British, circa 1800
Grand Tour imagery.
Back in the 1800s through the early 1900s, it was de rigueur for the wealthy and the educated to take a "Grand Tour" of Europe (or the world). In every city, at every attraction, there were locally made souvenirs available to tourists. This was true for hundreds of years, although as more "common folk" started to travel, the quality of souvenirs fell as the price points met their budgets. (Sadly, now much of the "traditional" craft items are mass produced in China.)
But a century or more ago, these souvenirs were handmade by artisans whose families had been in the business of producing such crafts for generations (i.e. leather goods, gold and silver jewelry, coral items, blown glass, crystal, textiles and lace, , brass and bronze work, religious items, etc.)

Micromosaics has a long history in Italy. It was used in both jewelry and decorative items. What better item to offer as a souvenir than illustrations of that country's most popular tourists sites? Not only were they beautifully rendered, but when worn back home, it telescoped that the wearer was a sophisticated woman of the world.
Each tiny piece is made from local stone; each "tile" smaller than a grain of rice, each set by hand. In this one, the finished puzzle creates a detailed depiction of Rome's Pantheon.

Back in the 70s, when I visited Italy on my own "grand tour," I bought some micromosaic jewelry (florals) whose detail impressed me at the time (and which I still like.). But compared to this, my jewelry doesn't hold a candle! They just don't make stuff like this anymore!

Set in what appears to be blue onyx and mounted on a hand-made bezel. While unmarked, it appears to be hand-wrought gold or perhaps bronze. Backed in woven textile.
$750
similar brooches elsewhere from $1100-$7600